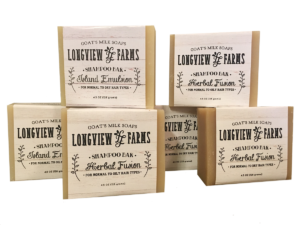 We are excited about our shampoo bars and so are our customers!  Each bar is a luxurious blend of nutritious oils designed to produce a clean and healthy scalp and hair with a beautiful sheen! While many shampoos contain the undesirable Sodium Lauryl Sulfate as a foaming agent, our shampoo bars have delighted our customers with their superb lather created from our Coconut Oil Blend!  Our shampoo bars are enriched with Jojoba, Almond, Avocado, and Apricot Kernel Oils, Aloe Vera Gel, and Shea butter for wonderfully clean and nourished hair.
As well as being Sodium Lauryl/Laureth Sulfate free, they contain no: Aluminum, Ammonia, and no ingredient you can't pronounce!
Did you know that much of the shampoo on the market contains ammonia which is very harmful to your eyes? Did you know that some of the shampoo you wash your hair with finds its way into your eyes? This fact alone is what set us on a mission to create shampoo that was completely beneficial for both the hair and the rest of the body!
Try out our natural shampoo bars which do not contain any damaging ingredients and thoroughly cleanse and nourish your hair and scalp!