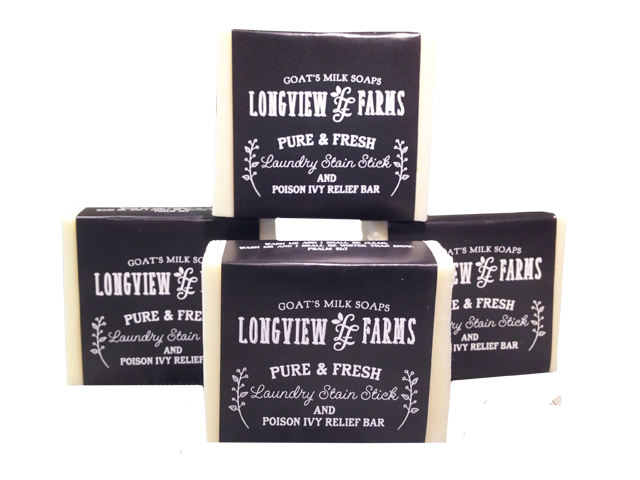 The most effective all natural stain remover you will ever use! We have great success using this bar like a stain stick. Use hot water, an old hair brush, and this laundry bar to remove nearly every stain!
Speedily Removes:  Blood, Grass stains, Dirt, and a host of other stains!
NOTE: If you make your own laundry detergent, our Pure and Fresh Laundry Bar works incredibly as the soap ingredient! We can't find a detergent we like better than our own, made with this bar. It keeps the laundry white and smelling fresh.
Ingredients: saponified tallow, olive, and palm oils, borax, grapefruit seed extract, and fragrance oils
"I have been meaning to tell you that your soap has been a real blessing to us! One day, sort of by accident, I found out that it works REALLY well for taking "mustard stains" out of baby clothes…if you know what I mean. It is truly AMAZING! Nothing that I have used compares…even treating it with various stain removers. Armed with that knowledge, I made some dry laundry detergent using one of your bars of soap. I am very pleased with it. Thanks! God has blessed your products and they are fabulous!"  – Amber
"I am very impressed with the Pure and Fresh Laundry Bar! I tried using Tide, Oxi- Clean, and even Bleach to remove a grape juice stain on my favorite shirt and nothing would take it out…until I tried the Laundry Bar! It completely removed the stain! Thank you!!" – Kristy