The story of Longview Farm's begins over 20 years ago…We had carefully researched what kind of ingredients would make the best soap. We were after a bar that would:

– Deeply moisturize the skin 
– Renew and restore skin while it cleansed
– Free of all chemicals, preservatives, GMO products, Sodium Lauryl Sulfates, or parabens
– Had a strong pure and fresh natural scent &
– Superb lather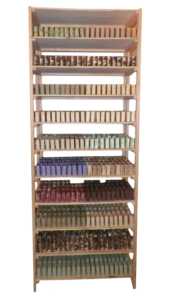 Could there be a soap like this that didn't clog pores with animal fats and yet wouldn't "melt away" in the soap dish?

We found the answer! Goat's milk with Coconut, Palm, and Olive oil, beeswax, grapefruit seed extract and homegrown herbs make a superior soap!!

For us, crafting goat milk soaps was a perfect fit with our growing herd of Nubian goats. Using holistic, non- GMO, and herbal methods in our animal husbandry, our pure and creamy goat's milk could create an amazing skin-restoring and revitalizing bar!

Goat's milk actually helps prevent wrinkles, keeps skin youthful, deeply moisturizes, is a huge relief and soother for acne, eczema, psoriasis and rashes, eases skin sensitivities & works to repair damaged skin! It is HUGE for your skin!
Our blend of olive, palm, and coconut oils work in harmony with our goat's milk to produce hard, long-lasting, gentle and purifying bars. These oils are non-greasy, do not clog pores, reduce wrinkles and age spots, & work to exfoliate dead skins cells. Their nutrients and vitamins penetrate the skin, soothing and moisturizing. These oils work to restore and repair skin, making our bars very therapeutic for dry, itchy, damaged, or sensitive skin types! They work to revive a radiant youthfulness!
So we delved into our first day of soap making, equipped with our amazing ingredients.
We smile as we look back on that day—our soap making expedition ended up taking the entire day, but we thoroughly enjoyed the process and our efforts proved a total success!
As the years went by, we continued to perfect our soaps, incorporating our homegrown herbs for therapeutic and nutritional properties, and experimenting with natural ways to tint the bars—like using chlorophyll, spices and mineral pigments.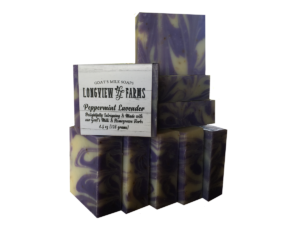 At first, we just made the soaps for our own family, but then other families, seeing the benefits of moisturizing, chemical-free soaps, started putting in their orders for our handcrafted bars.
As the business expanded, we launched our first website. Longview Farms was officially born…a name to both depict why we're here and who we are. As the Long Family, these products are produced from our farm, and we're taking the "long term view"– no short-cuts! Our motto, "Handcrafted Purity Without Compromise" depicts our vision. Our goal has always been to produce healthy handcrafted products whose chemical-free, homegrown ingredients have long lasting nourishing effects. With all the synthetic ingredients creeping into many so-called "healthy" body product lines, boasting of quick fixes for moisturizing, or formulas for relieving sensitive skin, Longview Farms offers truly pure products whose healthy ingredients and undefiled formulas are long lasting in the moisturizing and restorative effects on your skin!
Realizing that our customers were folks like us who wanted body products that actually benefited their skin instead of being so chemically laden that they robbed the skin, we started asking another question….
Where to find "truly" healthy shampoo? Even the ingredient list on most "natural" shampoos can get pretty discouraging!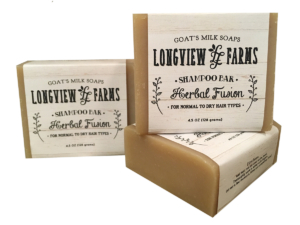 "Why not make a shampoo bar?" we asked ourselves.
With a blend of luxurious oils for hair enrichment and restoration, plus coconut oil's amazing lather, and no worries for sodium lauryl/laureth sulfate, ammonia, parabens, chemical colorants or additives, the shampoo bars became an answer for concerned individuals who have sought long and hard for confidence building body products!
"And what about Goat's Milk Lotions & Creams?" The question was before us again. Perhaps even more prevalent than in the soap world, is the presence of chemicals, preservatives, and additives in the lotion realm!! It's everywhere!
We already knew how huge the benefits of goat's milk were to our skin…so we plunged in again.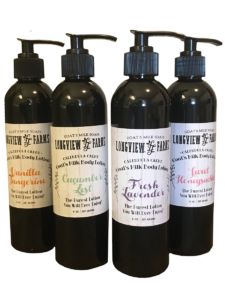 To create a completely chemical-free lotion or cream that still had a reasonable shelf life was a daunting feat! After almost 2 years of formulating,  we had lotions and creams that would thrill our customers and put them at ease, knowing that chemical related skin rashes, reactions and break-outs will never be encountered at Longview Farms. Our creams and lotions are the purest of the pure.
Over the following years, Longview Farms continued to expand.  Goat's Milk Soaps in 25 exhilarating and beautiful varieties, Goat's Milk Creams and Lotions, Shampoo Bars, Pure Soy Candles,  Herbal deodorants, Beeswax Lip Balms, Bug Repellent and Herbal Hair Conditioning Rinse joined the line at Longview Farms.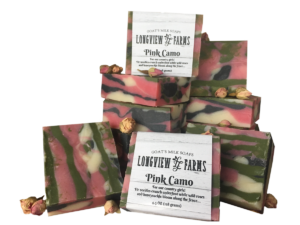 So that's our story…20 years later we're still enjoying the process –producing our healthy ingredients and handcrafting our products. It's been a fun road, following where the Lord has led.
We look forward to how the Lord will lead going forward as we continue to expand. It is our sincere desire that as we continue to emphasize our pure unpolluted products, we could also introduce folks to a Person, their Creator and Savior, Jesus Christ, who gave His life so that we could all "escape the corruption and pollution" of sin in this present world and live with Him in His purity and light for all eternity.
From all of us at Longview Farms,
The Long Family