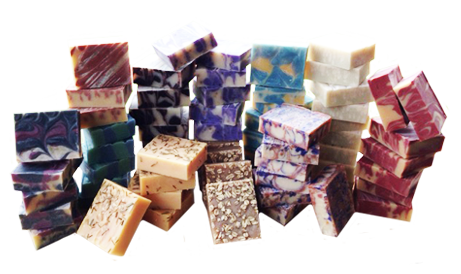 Longview Farms soaps are crafted with a 100% Pure Coconut Oil, Olive Oil, and Palm Oils empowering them with amazing cleansing and skin softening qualities.  The invaluable addition of our fresh goat's milk to this trio creates a bar of soap that is as therapeutic as it is purifying!  Our bars purify wonderfully, yet are mild and soothing for sensitive skins. They have been known to clear up eczema as well as soften and deeply moisturize the skin.
No animal products such as tallow or lard are added as these are known to clog the pours of our skin. We take no short cuts. No cheap filler oils or ingredients are used to "stretch" the "good oils". Our soaps retain all naturally occurring glycerin with no added manufactured glycerin. With the addition of beeswax and homegrown herbs from our farm, and an assortment of pure essential oils, you'll come to love every bar! Woven through our line of body bars, you will find mineral pigments or spices for a splash of color and interest –never chemical dyes!! We use a cold-process soap making method, so no additional heating is necessary, leaving our ingredients as close to their natural state as possible.
It is our sincere desire that you will find our natural products enjoyable and effective! Each handcrafted bar weighs approximately 4.2 oz.
For a fascinating summary of the benefits of the ingredients we use, please view Our Ingredients.
PLEASE CLICK AN IMAGE BELOW FOR MORE DETAIL: